Intoxicaciones por setas ¿todavía existen hoy?
Gabriel de Arriba de la Fuente

Hospital Universitario General de Guadalajara

Patricia Sánchez-Escudero

Cristina Freijoso

María Ángeles Basterrechea

José Ramón Rodríguez-Palomares
Resumen
Presentamos el caso de una paciente de 55 años vegana, que ingresa por presentar cuadro de nauseas, vómitos y deterioro general secundario a la ingesta de Amanita próxima. La paciente sufrió un síndrome norleucínico con fracaso renal agudo oligoanúrico, que requirió tratamiento con hemodiálisis urgente. La evolución de la paciente fue satisfactoria con recuperación completa de la función renal al cabo de 3 semanas. A propósito de este caso revisamos los efectos tóxicos de las principales setas y su tratamiento.
Citas
1. Graeme KA. Mycetism: a review of the recent literature. J Med Toxicol 2014;10:173-89.
2. Lima AD, Costa Fortes R, Carvalho Garbi Novaes MR, Percario S. Poisonous mushrooms: a review of the most common intoxications. Nutr Hosp 2012;27:402-8.
3. de Haro L, Jouglard J, Arditti J, David JM. Insuffisance renale aigue lors d'intoxication par Amanita proxima: experience du Centre anti-poisons de Marseille Nephrologie 1998;19:21-4.
4. Frank H, Zilker T, Kirchmair M, et al. Acute renal failure by ingestion of Cortinarius species confounded with psychoactive mushrooms: a case series and literature survey. Clin Nephrol 2009;71:557-62.
5. Courtin P, Gallardo M, Berrouba A, Drouet G, de Haro L. Renal failure after ingestion of Amanita proxima. Clin Toxicol (Phila) 2009;47:906-8.
6. Kirchmair M, Carrilho P, Pfab R, et al. Amanita poisonings resulting in acute, reversible renal failure: new cases, new toxic Amanita mushrooms. Nephrol Dial Transplant 2012;27:1380-6.
7. Leray H, Canaud B, Andary C, Klouche K, Beraud JJ, Mion C. Amanita proxima poisoning: a new cause of acute renal insufficiency. Nephrologie 1994;15:197-9.
8. Berger KJ, Guss DA. Mycotoxins revisited: Part II. J Emerg Med 2005;28:175-83.
9. Berger KJ, Guss DA. Mycotoxins revisited: Part I. J Emerg Med 2005;28:53-62.
10. Diaz JH. Syndromic diagnosis and management of confirmed mushroom poisonings. Crit Care Med 2005;33:427-36.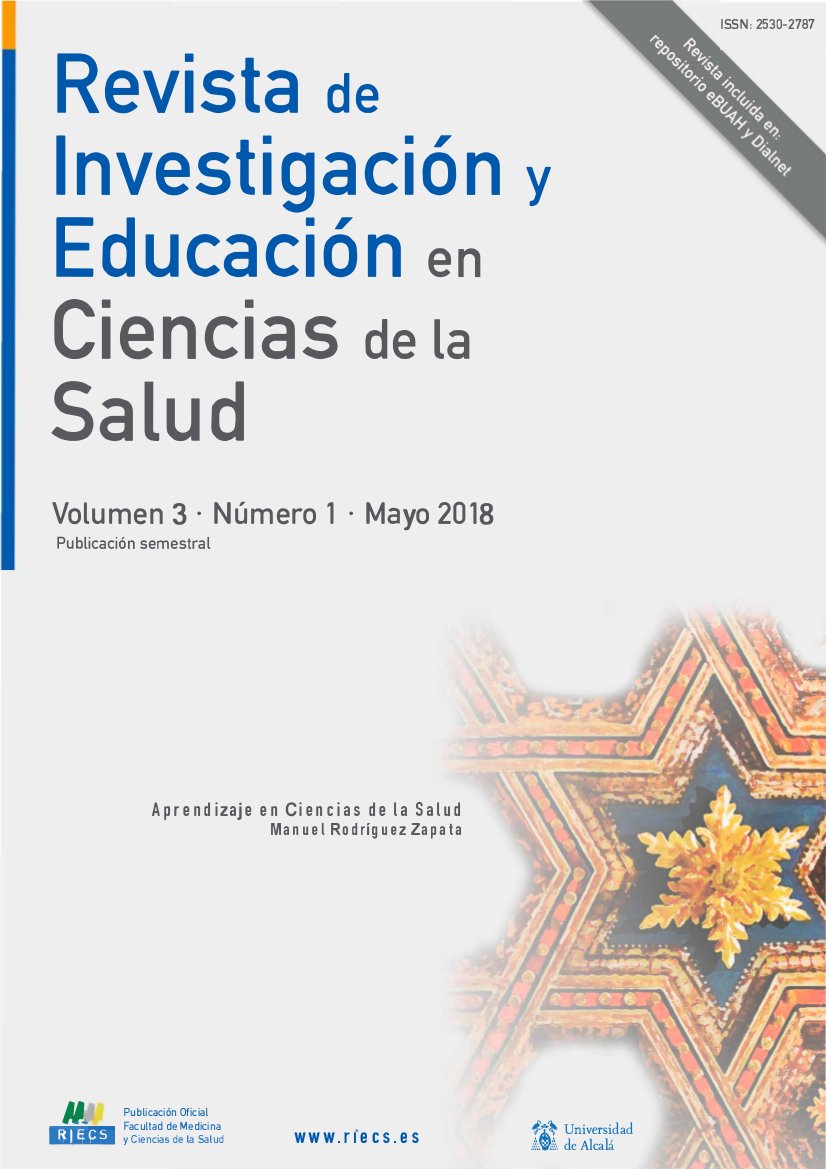 Cómo citar
DE ARRIBA DE LA FUENTE, Gabriel et al. Intoxicaciones por setas ¿todavía existen hoy?.
Revista de Investigación y Educación en Ciencias de la Salud (RIECS)
, [S.l.], v. 3, n. 1, p. 34 - 38, ene. 1970. ISSN 2530-2787. Disponible en: <
https://riecs.es/index.php/riecs/article/view/64
>. Fecha de acceso: 10 dic. 2018
Esta obra está bajo licencia internacional
Creative Commons Reconocimiento 4.0
.