Infección por VIH en el primer mundo: ¿Qué nos queda pendiente?
Palabras clave:
VIH, SIDA, Primer mundo
Resumen
El presente trabajo aborda el concepto de fragilidad, la epidemiología en población general y en pacientes que viven con infección por VIH (PVCV) y su importancia. Se describen los principales instrumentos que detectan y cuantifican la fragilidad y analiza el impacto que la fragilidad tiene en la morbi-mortalidad. Se estudian cuáles son las estrategias terapéuticas ante la fragilidad haciendo hincapié en la terapia multicomponente. Por último, esta revisión se centra en la fragilidad en el paciente con infección por VIH. Se estudia la prevalencia y las variables asociadas con la fragilidad en esta población específica. Se señalan las dificultades del estudio en este grupo de pacientes dado los problemas metodológicos en el diagnóstico con escalas no validadas y se insiste en la necesidad de una herramienta que de forma rápida permita evaluar la fragilidad para alertar de una comorbilidad, o para iniciar un programa de intervención multidisciplinar.
Citas
Antiretroviral Therapy Cohort Collaboration. Survival of HIV-positive patients starting antiretroviral therapy between 1996 and 2013: a collaborative analysis of cohort studies. Lancet HIV. 2017;4:e349-e356.
Margolis DA, Gonzalez-Garcia J, Stellbrink HJ, et al. Long-acting intramuscular cabotegravir and rilpivirine in adults with HIV-1 infection (LATTE-2): 96-week results of a randomised, open-label, phase 2b, non-inferiority trial. Lancet. 2017;390:1499-1510.
Rodger AJ, Cambiano V, Bruun T, et al; PARTNER Study Group. Risk of HIV transmission through condomless sex in serodifferent gay couples with the HIV-positive partner taking suppressive antiretroviral therapy (PARTNER): final results of a multicentre, prospective, observational study. Lancet. 2019;393:2428-2438.
ONUSIDA. Indetectable=Intransmisible. La salud pública y la supresión de la carga vírica del VIH. Disponible en: https://www.unaids.org/es/resources/presscentre/featurestories/2018/july/undetectable-untransmittable [Consultado 4 de Noviembre de 2019].
Ministerio de Sanidad, Servicios Sociales e Igualdad. Guía de Recomendaciones para el diagnóstico Precoz del VIH en el ámbito sanitario 2014. Disponible en: http://www.mscbs.gob.es/ciudadanos/enfLesiones/enfTransmisibles/sida/docs/GUIA_DX_VIH.pdf [Consultado 5 Nov 2019]
Stover J, Hallett TB, Wu Z, et al. New Prevention Technology Study Group. How can we get close to zero? The potential contribution of biomedical prevention and the investment framework towards an effective response to HIV. PLoS One. 2014;9:e111956.
Granich R, Williams B, Montaner J, Zuniga JM. 90-90-90 and ending AIDS: necessary and feasible. Lancet. 2017;390:341-343.
Moreno S, Ordobás M, Sanz JC, Ramos B, Astray J, Ortiz M, García J, del Amo J.Prevalence of undiagnosed HIV infection in the general population having blood tests within primary care in Madrid, Spain. Sex Transm Infect. 2012;88:522-4.
Elion R, Coleman M. The preexposure prophylaxis revolution: from clinical trials to routine practice: implementation view from the USA. Curr Opin HIV AIDS. 2016;11:67-73.
Molina JM, Capitant C, Spire B, et al. ANRS IPERGAY Study Group. On-Demand Preexposure Prophylaxis in Men at High Risk for HIV-1 Infection. N Engl J Med. 2015;373:2237-46.
Sullivan PS, Smith DK, Mera-Giler R, et al. The Impact of Pre-exposure Prophylaxis With FTC/TDF on HIV Diagnoses, 2012-2016, United States. Presentado en el 22nd International AIDS Conference, 23-27 Julio 2018, Amsterdam, the Netherlands. Abstract LBPEC036.
Ministerio de Sanidad, Consumo y Bienestar Social. Plan Nacional sobre el SIDA. Pacto social por la no discriminación y la igualdad de trato asociada al VIH, 2018. Disponible en: https://www.omsida.org/wp-content/uploads/2018/11/PACTO-SOCIAL-2018.pdf [Acceso 5 Nov 2019].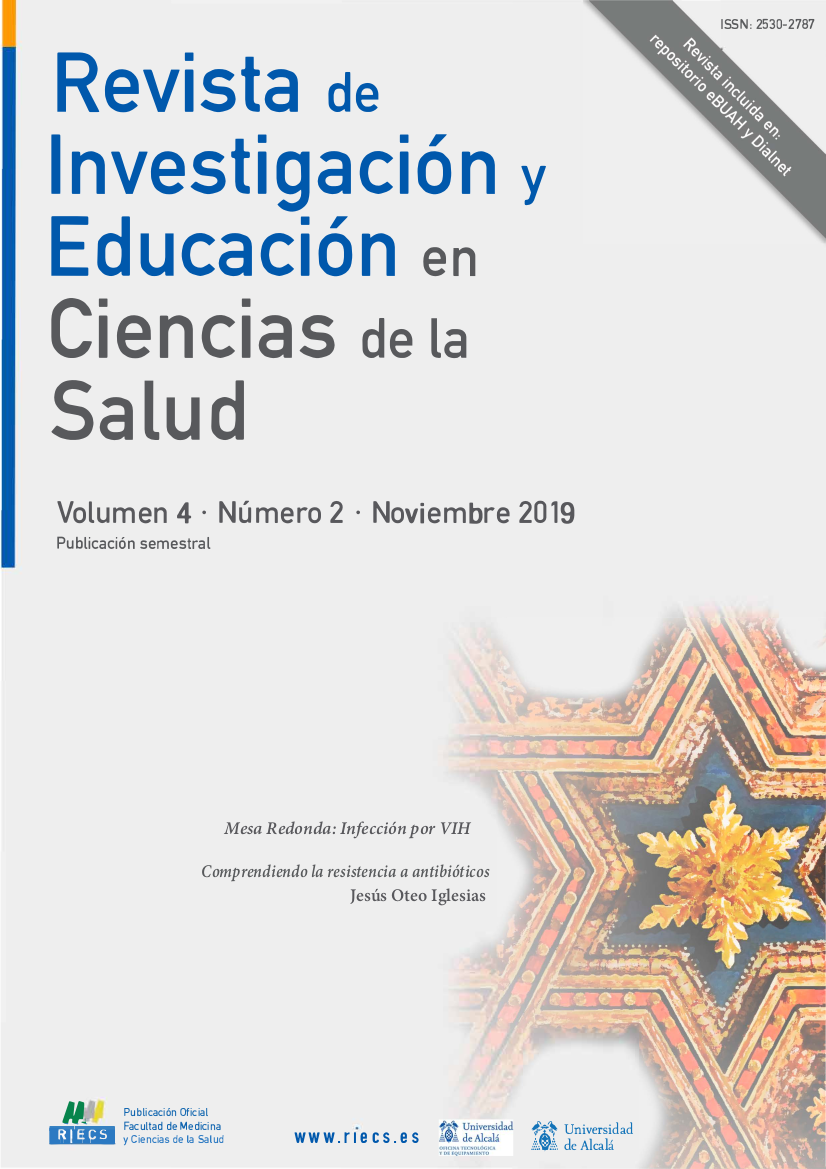 Sección
Mesa redonda de VIH
Derechos de autor 2019 Revista de Investigación y Educación en Ciencias de la Salud (RIECS)
Esta obra está bajo licencia internacional
Creative Commons Reconocimiento 4.0
.