Abordaje de la demanda quirúrgica en el este de África. Modelos de cooperación en cirugía. Organización de una campaña sostenible
Silvestra Barrena Blázquez

estudiante

José María Mugüerza Huguet
Palabras clave:
Cirugía, Atención sanitaria, Países de baja y media renta, Cooperación, Infraestructuras, Procedimientos quirúrgicos, Africa, Morbilidad, Mortalidad, Campañas quirúrgicas
Resumen
1) Antecedentes: La atención quirúrgica es parte esencial de la atención de salud y se asocia con una mayor esperanza de vida, sin embargo, muchos países de bajos y medios ingresos no logran alcanzar niveles básicos en este servicio. Las mejoras en la capacidad y la prestación de servicios quirúrgicos deben ser un componente principal del fortalecimiento de los sistemas de salud. 2) Método: Se realiza una búsqueda en PubMed mediante la combinación de palabras claves como "Surgery", "Low and middle income countries", "Health care", "Infrastructure", "Africa", "Cooperation". Se utiliza los registros de los pacientes, screening y procedimientos quirúrgicos, facilitados por el proyecto "Cirugía en Turkana". 3) Resultados: Los procedimientos quirúrgicos están entre las intervenciones de salud más rentables y ha empezado a tomar fuerza el papel de la cirugía como parte de la asistencia sanitaria primaria. Las intervenciones realizadas en la campaña 2018 de "Cirugía en Turkana" fueron patologías de cirugía general (58%), traumatología (24%), ginecología (12%), cirugía maxilofacial (6%) y cirugías de urgencias (9,5%). Las patologías más demandadas por especialidades fueron los tumores de partes blandas, fracturas óseas, prolapsos uterinos y labios leporinos. 4) Conclusión: La cirugía es una parte esencial de la atención médica. Las complicaciones son comunes. El quirófano debe ser un entorno de trabajo seguro para los profesionales y para los pacientes. Es importante formar al personal local y concienciar a las autoridades políticas para mejorar las infraestructuras. Los proyectos de cooperación quirúrgicos permiten tratar patologías y disminuir discapacidades.
Citas
World Health Organization. Ginebra, Suiza. World Health Stadistics 2014. Part III. Global health indicators. 6: Health Systems; 128-141. Disponible en: http://www.who.int/gho/publications/world_health_statistics/2014/es/ Acceso 18 de octubre, 2018.
Holmer H, Lantz A, Kunjumen T, Finlayson S, Hoyler M, Siyam A, et al. Global distribution of surgeons, anaesthesiologists, and obstetricians. Lancet Glob Health 2015; 3 Suppl 2: S9-11.
The National Coalition on Health Care, The Institute for Healthcare Improvement. Accelerating Change Today: Curing the system: stories of change in chronic illness care. 2002;Disponible: http://www.improvingchroniccare.org/downloads/act_report_may_2002_curing_the_system.pdf. Acceso 2 de noviembre, 2018
World Health Organization. Regional Office for Africa. Health in Africa in 2000-2001: a balance sheet. Disponible en: https://afro.who.int/news/health-africa-2000-2001-balance-sheet. Acceso 30 de octubre, 2018 5. Pillay-van Wyk V, Msemburi W, Laubscher R, Dorrington RE, Groenewald P, Glass T, et al. Mortality trends and differentials in South Africa from 1997 to 2012: second National Burden of Disease Study. Lancet Glob Health 2016 ;4(9):e642-53.
Ouma PO, Maina J, Thuranira PN, Macharia PM, Alegana VA, English M, et al. Access to emergency hospital care provided by the public sector in sub-Saharan Africa in 2015: a geocoded inventory and spatial analysis. Lancet Glob Health 2018 ;6(3): e342-e350.
Funk LM, Weiser TG, Berry WR, Lipsitz SR, Merry AF, Enright AC, et al. Global operating theatre distribution and pulse oximetry supply: an estimation from reported data. Lancet 2010 ;376(9746):1055-1061.
Bergstrom S, McPake B, Pereira C, Dovlo D. Workforce Innovations to Expand the Capacity for Surgical Services. En: Debas HT, Donkor P, Gawande A, Jamison DT, Kruk ME, Mock CN, editors. Essential Surgery: Disease Control Priorities, Third Edition (Volume 1) Washington (DC): International Bank for Reconstruction and Development / The World Bank; 2015.
Cirugía en Turkana. Disponible en: http://www.cirugiaenturkana.com/ Acceso 30 de octubre, 2018
Kironji AG, Hodkinson P, de Ramirez SS, Anest T, Wallis L, Razzak J, et al. Identifying barriers for out of hospital emergency care in low and low-middle income countries: a systematic review. BMC Health Serv Res 2018 ;18(1):291-018-3091-0.
Hsia RY, Mbembati NA, Macfarlane S, Kruk ME. Access to emergency and surgical care in subSaharan Africa: the infrastructure gap. Health Policy Plan 2012;27(3):234-244.
Boerma T, Eozenou P, Evans D, Evans T, Kieny MP, Wagstaff A. Monitoring progress towards universal health coverage at country and global levels. PLoS Med 2014;11(9): e1001731.
Corlew DS. Economic modeling of surgical disease: a measure of public health interventions.
World J Surg 2013 ;37(7):1478-1485.
Briesen S, Geneau R, Roberts H, Opiyo J, Courtright P. Understanding why patients with cataract refuse free surgery: the influence of rumours in Kenya. Trop Med Int Health 2010;15(5):534-539.
Bucher S, Konana O, Liechty E, Garces A, Gisore P, Marete I, et al. Self-reported practices among traditional birth attendants surveyed in western Kenya: a descriptive study. BMC Pregnancy Childbirth 2016;16(1):219-016-1007-8.
Stewart BT, Carlson L, Hatcher KW, Sengupta A, Vander Burg R. Estimate of Unmet Need for Cleft Lip and/or Palate Surgery in india. JAMA Facial Plast Surg 2016;18(5):354-361.
Nthumba PM. Burns in sub-Saharan Africa: A review. Burns 2016;42(2):258-266.
Van de Sande WW. Global Burden of human mycetoma: a systematic review and meta-analysis. PLoS Negl Trop Dis 2013;7(11): e2550.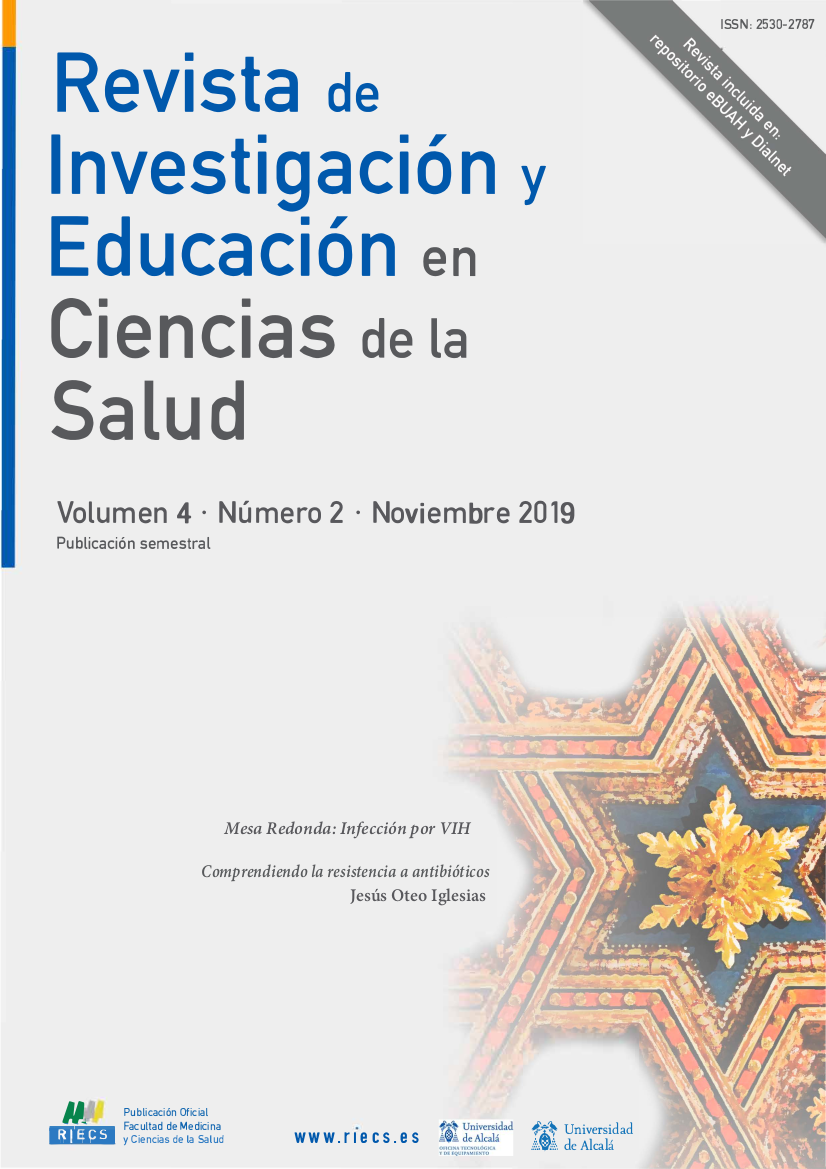 Sección
Artículos Originales
Derechos de autor 2019 Revista de Investigación y Educación en Ciencias de la Salud (RIECS)
Esta obra está bajo licencia internacional
Creative Commons Reconocimiento 4.0
.